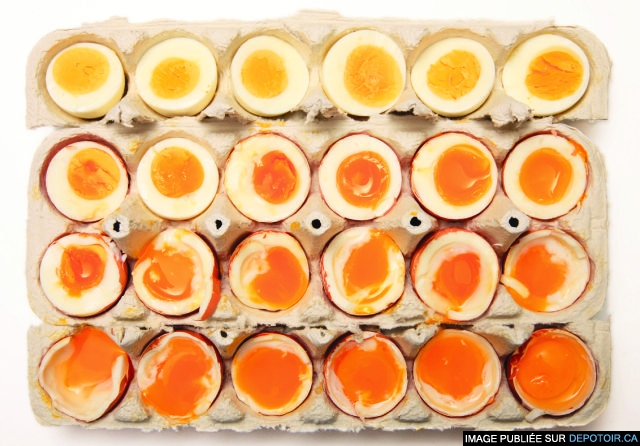 © http://qz.com/529249/the-best-way-to-boil-an-egg-according-to-science/
The best way to boil an egg, according to science
---
---
The right temperature for an egg white is 180°F (82°C), explains J. Kenji López-Alt in his new cookbook The Food Lab: Better Home Cooking Through Science. That's when egg white protein solidifies into a firm, but still tender, un-rubbery white.
But that's about 10 degrees hotter than the ideal temperature for theegg yolk. Above 170°F (77°C), egg yolks get dry and crumbly. And as the sulfur in the white and the iron in the yolk react, they create ferrous sulfide, which turns yellow yolks an icky green.
the faster approach might be simply to apply his conclusions: For the best egg, with a tender white and fully cooked yolk, bring water to a boil, gently lower your eggs into the water and let them cook for 30 seconds. Then add ice to lower the temperature, let the water boil up again, and cook for 11 minutes at about 190°F. Delicious.
Droit d'auteur
© http://qz.com/529249/the-best-way-to-boil-an-egg-according-to-science/
1
Informations sur la photo